Often when I'm sharing a new idea or a new program, people ask me, "Frazier, why are you doing all of this? What's in it for you?".
Well, to be honest, I just like creating things.
Over the past few years, we have rolled out lots of "things" in our Fort Hunt Community - from lunches and events to directories to contests to media to courses and clubs.
Right now, with Covid turning 100% of parents into "involuntary" homeschoolers, there is an INCREDIBLE demand and appreciation for activities, programs, and directories that help parents figure out how to support their kids with their classes, not be isolated, and share ideas with other parents.
Some of the programs that we are supporting in the fall to help with this demand are:
Every time I share these opportunities on NextDoor or on one of the Facebook groups, we get a lot of "Thank you so much"s and "How do we sign up?"s.
I'm still working on fleshing out this particular sales/info page but if you watched the video, you have a pretty clear idea of how this whole thing is going to work. (I also wrote a little bit more about
my "double word score philosophy"
which you can see below)
What to do Now
If you're EXCITED about being the Neighborhood Booster for your specific neighborhood, enter your information below and click the "Buy Now" link to complete the sponsorship.
The investment for being a Neighborhood Booster is $300.00 for 3 months
BUT as a
special bonus for my friends who are already Fort Hunt Boosters
(You know you who are :), I'm going to
include SIX MONTHS of Boostering
for that $300.00.
So you'll have six months of EXPOSURE and INTRODUCTIONS and POSTING on NEXT DOOR and FACEBOOK and PRESS RELEASES and Direct Announcements to Schools, Churches, Civic Associations, Parent's Groups, Clubs and Pre-Schools for the cost of 3 months.
And when we get to the end of the 3 months
(or 6 months, in the case of my bonus babies!)
, you can decide whether you want to renew (no automatic renewals here - you'll have to say,
"I'm loving this - I never want it to end!"
!
But as the EXCLUSIVE AGENT BOOSTER for the Neighborhood, you'll have right of first refusal - no one can sneak in and take your loving and grateful audience away from you!)
Right of First Refusal Continued...
As another bonus, as new programs come online or we create new ones based on interest from the community, you will have the
RIGHT OF FIRST REFUSAL
to be the sponsor for any of those programs for a very, very low additional cost.
It will be completely up to you as to whether you think there would be benefit in giving the new program away to your neighbors for FREE or whether you're happy to just let them have access for the discounted rate that comes from being part of your Fort Hunt University family!
The controls are in your hands!
As always, I'm open to all sorts of feedback and let me say a special "Thank you" to you for considering partnering with me. I know that what I'm doing is helping you grow your business, solidify connections, and attract referrals but what YOU'RE DOING is helping me do what I love to do - create programs that connect and serve our community.
It's a partnership!
Thanks,
Frazier
"Why are you doing all of this?"
I like seeing a need or an opportunity in the community or the market and finding a way to use technology - web, databases, video, etc - to fill it in a HIGHLY LEVERAGED way.
(That's just the entrepreneur in me)
.
I also like tearing down the barriers that prevent people - parents, neighbors, teachers, small businesses - from being able to participate and benefit from the things I create.
And that's why I always ask myself,
"How could I make what I'm offering FREE?"
Well, if you've been around the block a few times, you know as well as I do that one of "problems" with free is sort of embedded right there in the name -
FREE has no VALUE.
And that means no matter how GOOD the thing is that you're making available, if it's "free", people won't value it.
And who wants to be out there putting their heart and soul into something that people don't VALUE.
So I resolved one day to always make sure that there was a price tag associated with EVERYTHING that I do/build/create.
So each of the PROGRAMS, COURSES, and ACTIVITIES above (not the directories typicall) have a price to participate (
which establishes VALUE
).
But I still am motivated by TWO THINGS:
ONE
- how could I reduce the barriers for the people who DID value it and DID want it to participate?
And
TWO
, how could we get a "DOUBLE WORD SCORE" for the effort that I am putting into designing, developing, and managing the activity..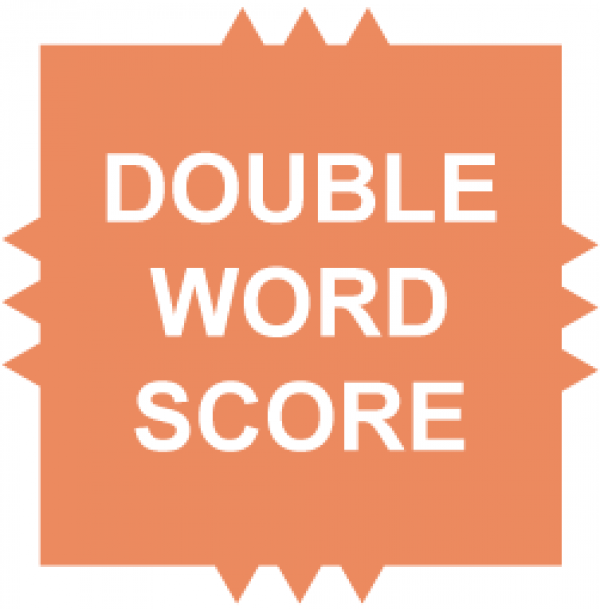 You know, the double word score in Scrabble. That's when you get DOUBLE the points for the same word - in other words, double the return.
Well, it occurred to me that I was creating all of this marveloous stuff, and I was WILLING to give it away for free but I was charging for it to establish value. But that means that I now had all of this valuable stuff (that I was still prepared to "give away")
Well, what happens in your personal life when you give someone something of value?
You get a big Thank You!.
And what do big "Thank yous" look like to Real Estate agents who really care about helping out and connecting their local community but don't have a consistent way of staying in touch with their existing clients and prospective clients?
Exposure, Recognition, Reciprocity, Viral Shares on Social Media, and even consistently staying in front of their high value clients.
So I started looking at these programs I was developing and I started thinking - There's a double word score here. I just need to unlock it.